Packing Tips for the Disorganised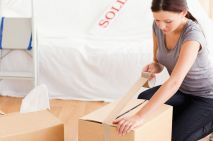 Packing when you're moving house is just a completely different ballgame to packing say, for a holiday or even packing to help somebody else move house. There is so much to think about and you truly realise just how much stuff you have. It can end up feeling completely overwhelming especially if you aren't one of life's naturally organised people, who just know how to deal with everything that piles up on their to do list. With the right preparation and the right knowledge, even though most disorganised of people can take on packing for their house removal and win! Get PlanningFor a disorganised person, the most essential part of getting packing done right is making a plan. That way, even at your most scatty, you have something to refer to and to get you right back on track. Although it may feel totally against your disorganised nature to actually make a plan, it's not as scary as it sounds. Simply making a few lists such as what to pack and when, who you need to contact and dates you need to keep in mind will make a world of difference and give you peace of mind at a time when everything feels so up in the air. Once you have made your plan, as long as you stick to it and don't deviate too much, then everything else should be plain sailing. Get Your EssentialsYou can't simply get up one day and decide to start packing without any preparation beforehand , there are several things you need to purchase in order to ensure the packing process goes to plan and as efficiently as possible. The main things you'll need to get started are cardboard boxes, bubble wrap, packing peanuts and plenty of tape. The bubble wrap and packing peanuts are essential parts in ensuring that your belongings keep safe and secure throughout the moving process and in transit. Without them you run a real risk of them becoming damaged which is completely avoidable with a little foresight and forward planning. LabellingBuying and making labels is something that is not going to come naturally to a disorganised person but is something which will make your packing process so much easier and more to the point, the unpacking process! Coming up with a labelling system that is either by object so for example 'books' or 'plates' or by room so for example 'kitchen' or bathroom' will save you so much time when it comes to unpacking at your new property because you can simply put the correct boxes in their corresponding room or category and you can get going without having to sift through everything first. Labels will also prevent anyone injuring themselves by attempting accidentally to carry a box which they didn't realise was heavy. Choosing the Right Removal ServiceIf you can get this part right then no amount of disorganisation should be able to get in your way. The right removal service should be able to give you helpful advice about packing, disassemble furniture that's too large or complicated for you to do it and load and unloaded the removals vehicle. Choosing the right service can be simple so long as you do plenty of research, shop around and make sure to thoroughly check their reputation and reviews, either by word of mouth or online. This way you'll get a good feel for how professional they are, their level of expertise and their reliability and friendliness. All qualities you should be looking for in a removals service.
More posts
The main worry that people tend to have regarding a domestic removal, is that of their items being...